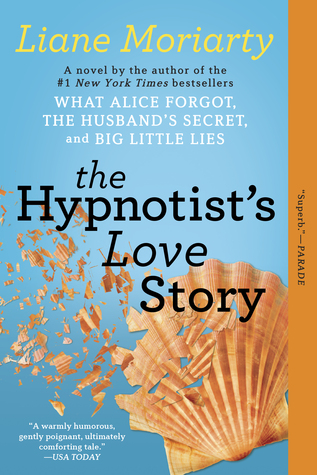 Rating: 3.5 out of 5
Liane Moriarty is known for soap opera-esque stories that while dramatic, don't quite follow the norms of their respected genres: The Husband's Secret was a quasi-thriller that isn't traditionally thrilling, and The Hypnotist's Love Story is a quasi-romance that isn't traditionally romantic.
This novel stars Ellen O'Farrell, a hypnotherapist in a bizarre predicament. Her new boyfriend Patrick is having trouble committing—not because he doesn't believe in the validity of her unique profession, but because of his stalker ex-girlfriend Saskia.
Ever the optimist, Ellen finds this situation more intriguing than insane. Saskia follows them around town, shows up to Patrick's son's games, and even breaks into Ellen's house and bakes her cookies. So why does the reader also feel sorry for her?
Moriarty is great about planting seeds of doubt, and this time it's in Patrick. Why does he get so angry over Saskia and yet refuses to call the police? Why is he dating Ellen when it's so obvious that he's not over his late wife? And if he's such a perfect boyfriend, then why can't seem to help with the simplest chores?
I feel that this novel could have been fantastic if it followed conventions a bit more closely. I expected some lighthearted chick-lit, but Saskia's disturbing behavior opens an unexpected dialogue about grief, mental illness and boundaries. Ellen's relationship with Patrick moves so quickly that it's easy to empathize with Saskia's inability to move on.
However, every time you think the book is going to delve deeper, one obstacle gets pushed aside and another is introduced. Ellen must also deal with the reemergence of her estranged father and the wrath of a dissatisfied client, but these conflicts are too easily resolved in the end.
Not quite a romance novel, not yet a crime drama—The Hypnotist's Love Story suffers an unfortunate identity crisis and doesn't live up to its potential. And at a whopping 480 pages, that's a long haul in literary purgatory.
This novel was different and fun but not the home run that I was looking for. That said, Moriarty is a great author, and I'll continue reading her work because she's more than capable of hitting those homers.