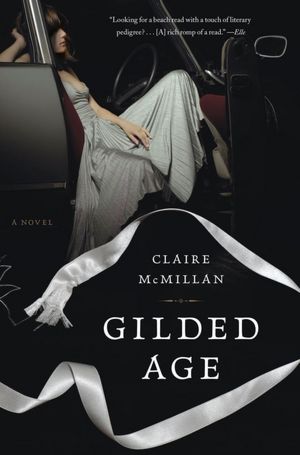 Rating: 3 out of 5
Well, 2013 is off to a slower start than I anticipated, given that it took me three weeks to finish this book! Good thing I set the reading bar a little lower, because life just keeps getting busier and busier!
Gilded Age is Claire McMillan's modern adaptation of Edith Wharton's The House of Mirth, and although it was entertaining in its own right, it was a basic copy-and-paste version of the original plot. Lily Bart is now Ellie Hart, and she's exchanged New York City for Cleveland. Most of the characters are named similarly to their Wharton counterparts, but they're no less wealthy or tied to societal norms.
Society has just changed slightly since the turn of the century. McMillan adds a 21st century edge to the plot, giving Ellie a stint in rehab instead of a mere gambling problem. The most envied social circle--involving the Gryces, Trenors, and Dorsets--includes marijuana at their cocktail parties, while the wilder bunch--based on the Gormers--up the ante with harder drugs and partner-swapping.
An interesting aspect of Gilded Age, however, is that the unnamed narrator is a married, pregnant woman. As Ellie's oldest friend, she acts as her foil, highlighting the two extremes of promiscuous debauchery and submissive domesticity.
The only problem with this dichotomy though is that it feels out of place in this setting. Lily Bart lived in a world which made it very difficult for a woman to climb the social ladder without marrying, and her dependence on her aunt's inheritance spurred a believable downward spiral into poverty.
On the other hand, Ellie is a grade-A hot mess who foolishly signed away her divorce settlement and refuses to keep a job like everyone else. Lily, despite her many mistakes, was more of a victim of her circumstances, whereas Ellie, fueled by her addictive personality, promptly rejects the idea of joining the working class and stomps around without regard to others.
The best example of this disregard is Ellie's penchant for other women's husbands. I couldn't fathom why, in 2012 when you don't even need a man to achieve economic and social status in America, Ellie would degrade herself by chasing those who are already taken or pick through the bargain bin of unworthy suitors?
And while I understand McMillan's choice of narrator as the fly on the wall witnessing Ellie's doom, I would have appreciated more character development on her motivations. It would have flushed out the story's details better, as well as provided more insight to her actions.
Ultimately, this tale ended up reading more like a Midwestern episode of "Gossip Girl" (no insult to the show intended!) than a powerful critique of one of literature's most renowned novels. McMillan's characters were too callous and hypocritical without all of the multifaceted nuances of Wharton's, making all the gender double-standards fall a bit flat.
Thus, Gilded Age makes a decent beach read, but stick to Wharton for true societal commentary. In fact, after reading this novel, I wish that I could have rated The House of Mirth higher. Sometimes you need to read a sub-par adaptation in order to really appreciate the original.