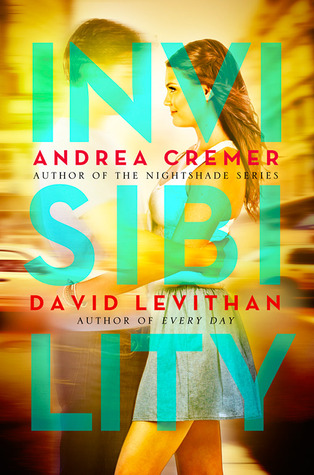 Rating: 3 out of 5
Oh, how I wanted to enjoy this book more! Invisibility, a collaboration between David Levithan (Every Day, The Lover's Dictionary) and Andrea Cremer (The Nightshade series), was published in 2013 and seemed to be every YA lover's dream. But while the story started out great, it only got more disappointing with each page.
The book's structure is certainly unique. The authors alternate chapters between two teenagers living in Manhattan: Levithan writing from the POV of Stephen, a boy cursed into invisibility by his grandfather, and Cremer writing as Elizabeth, his new next-door neighbor who discovers that she is the only one who can see him...and possibly cure him.
This sounded similar to Every Day, since it also features a paranormal romance, but I quickly found out that it's subpar to Levithan's solo story. In that book, the protagonist known simply as "A" wakes up in a new person's body every day (hence the title), and the reader is given almost no reason as to why. I appreciated that sentiment also seen in Kafka's Metamorphosis, because the audience must take a leap of faith and begin in media res.
However, Invisibility attempts to explain Stephen's condition with poorly designed world creation in which magical curse-casters and spell-seekers exist in constant tension with one another--the former like Stephen's grandfather whose nature it is to spread cruelty, and the latter like Elizabeth who have the power to keep them in check.
There are so many plot holes in this story that it would take forever to list them, but the most egregious is that there is no explanation as to why Elizabeth is the only spell-seeker who can see Stephen when there are others who can't. The rules of this magical universe are haphazard, and the overall logic is just abysmal.
In addition, this novel suffers from the common YA mistake of 'insta-love,' given that Stephen and Elizabeth are willing to die for each other only a few weeks after meeting. I won't give the ending away, but even a hopeless romantic like myself has a hard time buying that their relationship could possibly have a 'happily ever after.'
As much as the book is entertaining and keeps you turning pages, I find it a rushed, terribly thought-out tale that reads more like mediocre fan-fiction than a legitimate novel. I rated this 3 stars because Levithan's writing prowess is undeniable, but it far outshines Cremer's. While I'm happy for her for getting the chance to ride his coattails, I'll stick to the work of her writing partner in the future.