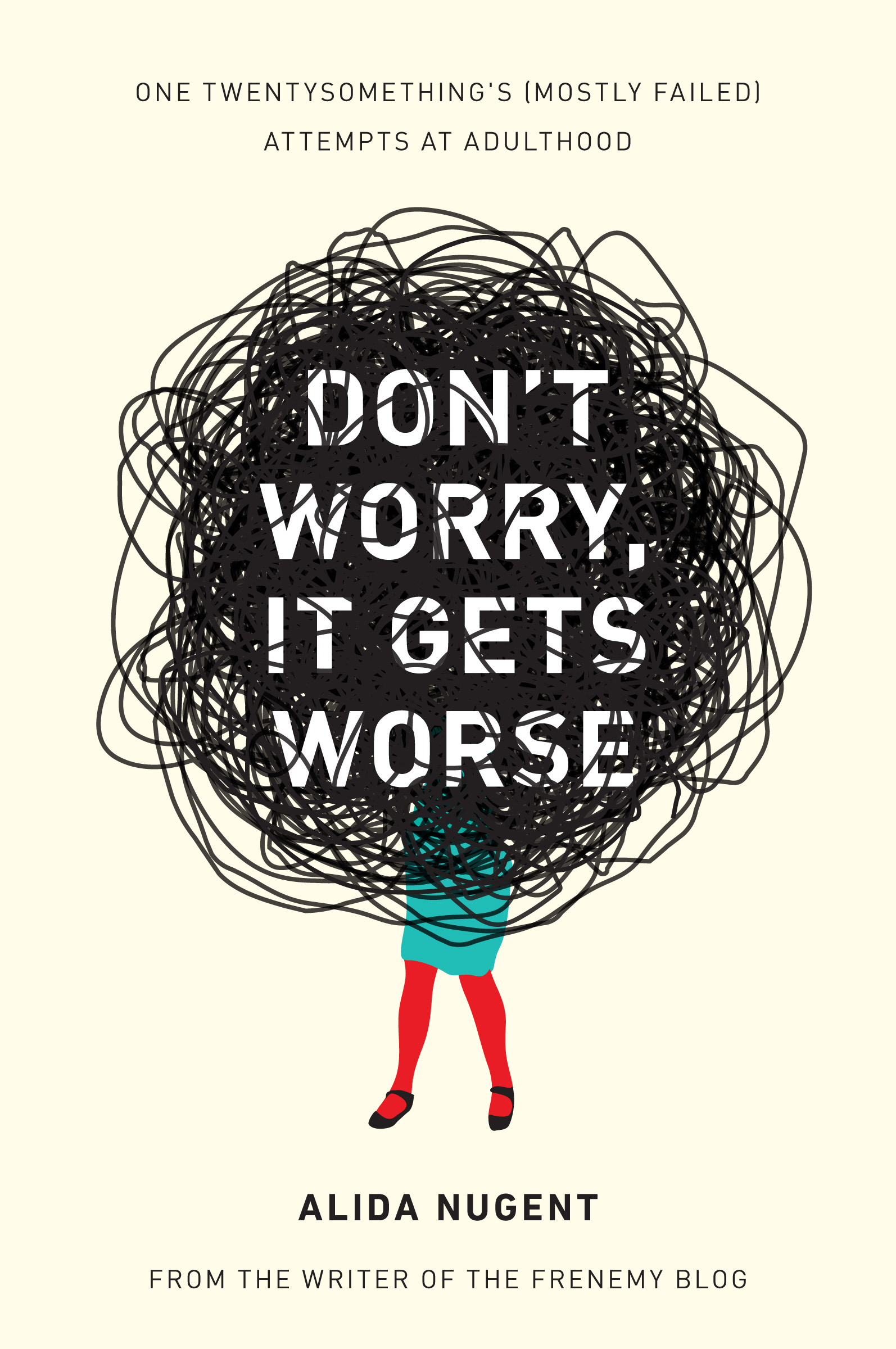 Rating: 4.5 out of 5
"A few years ago, I graduated college, diploma in one hand, margarita in the other, completely oblivious to the shit storm that was coming my way. Here's a preview: becoming a living, breathing, job-having, bill-paying, responsible adult? Really fucking difficult."
That profanity filled insight is from Alida Nugent, a 20-something writing for fellow 20-somethings. Founder of The Frenemy blog, her commentary on life as a Millennial can also be read on other sites like XO Jane and The Huffington Post.
And now, everyone can relate to her in her memoir, Don't Worry, It Gets Worse. I wasn't a reader of The Frenemy, but was intrigued by a girl who managed to survive breaking into the real world and come out writing for a living.
The first half of the book is hilarious. She discusses her post-grad years in New York City, living with roommates in a crappy apartment and trying to throw 'grown-up' parties but failing miserably.
She doesn't sugarcoat how difficult transitioning from child to adult can be, and she doesn't hide her hard-drinking, foul-mouthed ways. I especially loved her obsession with the bad-boy character Shawn Hunter from "Boy Meets World" as her rationalization behind why she continually falls head over heels for jerks.
Then Nugent gets more serious in the second half, when nostalgia sets in and she realizes that everyone around her is gradually moving on with their lives. Every girl her age can understand that bittersweet feeling as she now experiences the avalanche of weddings and baby showers, whether she's actually invited or has to witness them scrolling through her Facebook news feed.
So if you're a '90s kid who wishes you could swap student loans, rent, and online dating for Lisa Frank, Beanie Babies, and jelly shoes, then check out this memoir, because Alida Nugent feels your pain.
You'll laugh, you might cry, but you'll be nodding your head so much in agreement, it will make you want to give Nugent a hug...and a tequila shot. After reading Don't Worry, It Gets Worse, you're going to need both!