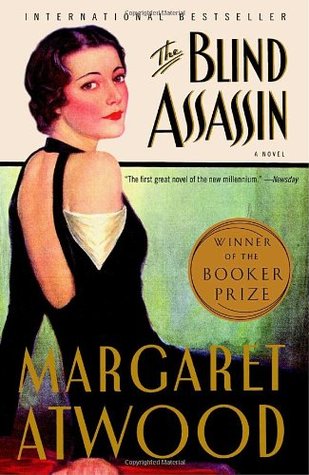 Rating: 4.5 out of 5
Tomorrow I have the opportunity of a lifetime to meet Margaret Atwood, renowned author of The Handmaid's Tale and The Blind Assassin, which was my book club's selection for September.
There's so much to unpack in this novel, but I believe what makes it so successful is its structure. With quite possibly the best first line in literature, "Ten days after the war ended, my sister Laura drove a car off a bridge," the story of sisters Iris and Laura Chase is given an immediate sense of intrigue.
Set during the Great Depression and WWII, an elderly Iris recounts her life, describing her tumultuous relationships with her family: her allegedly mentally disturbed younger sister Laura, her alcoholic father, her wealthy but emotionally detached husband, her drug-addicted daughter, and estranged granddaughter.
As if the plot wasn't already crammed enough, Atwood alternates these narrations with a novel within a novel. "The Blind Assassin" is not only reflective of the enigmatic symbolism, it's also the title of a science fiction story created by two unnamed lovers on the run. It's up to the reader to figure out who is the real author of this book, a feat which lends to the larger climax of Atwood's novel.
I will admit that the pacing of this book starts off very slow, and the science fiction chapters do not seem well integrated with Iris's chapters. I'm not surprised that a couple people in my book club gave up after 50-100 pages, because Atwood's style is all about character development and delayed gratification. If you can stick it out, you're rewarded with a phenomenal story. I finished reading the last 200 pages in just three days and thoroughly enjoyed how the pacing accelerated into its dramatic conclusion.
I don't want to give away too much, because this is a beautifully written book where every detail is a clue to understanding this puzzle, from the interspersed newspaper clippings right down to each article of clothing that is worn. It's no wonder why The Blind Assassin won the Booker Prize and TIME's Best Novel of 2000: Atwood has a wit that is unmatched, and this book is exactly what literary fiction should be.