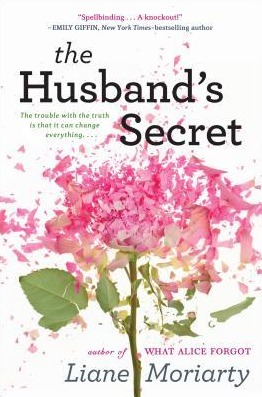 Rating: 4 out of 5
On Thursday evening, my book club will discuss The Husband's Secret by Liane Moriarty. This bestselling 2013 novel intrigued us due to its promise of scandal, and it certainly delivered--just not in the way I expected.
Set in Australia (which is interesting in itself, since it was the first time I read about Easter during autumn), the story features three women, each dealing with serious family drama.
Cecilia discovers a letter from her husband meant to be read by her after his death--except he's very much alive. Tess is also faced with spousal conflict after learning that her husband is having an affair with her cousin. Lastly, Rachel is still grieving the loss of her teenage daughter decades after her unexplained murder.
I thought that The Husband's Secret would be about a big reveal, but surprisingly, it's not difficult to connect the dots of how these families are intertwined. That said, it's still entertaining to watch the plot progress. The characters are not likable at all times, but they're realistic and multi-dimensional. Moriarty does an apt job putting the reader in their shoes; even the tough subject of homicide is transformed from something that you think you'd never experience to just another dirty little secret of suburbia.
Naturally, I can't give away too many details since I don't want to spoil the book, but I will say that if you're a scaredy cat like me, you don't have to worry. Moriarty is no Gillian Flynn writing super suspenseful thrillers; instead, her strength is demonstrating how mundane the controversy can be. Events unfold, and life goes on. You can torture yourself with what could have or should have happened, or you can embrace the butterfly effect of chaos.
My favorite part about having a book club is reading stories outside of my comfort zone. The Husband's Secret is not a total 180 from my typical picks, but it was a nice change from the novels I normally add to my to-read list. I'm looking forward to hearing what the other members thought of this book!