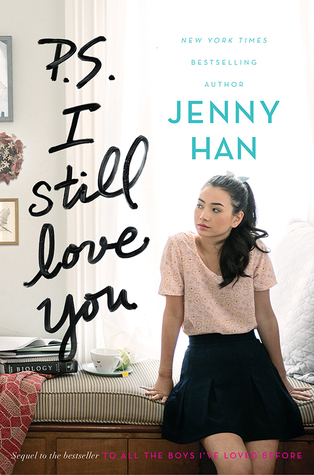 Rating: 3.5 out of 5
When I read a book like P.S. I Still Love You, I'm reminded of why I feel conflicted about reading YA that is not wrapped in the dystopian or supernatural. With no layer of escapism, all that you're left with is teenage drama--and let's just say that I had enough of that to last a lifetime.
For those like me who were nerdy and unpopular, who valued good grades and good books over football games and house parties, high school was definitely not 'the best four years of your life.' In fact, if anyone does happen to spew that nonsense at me, I immediately distrust them. Someone could build a time machine and offer me $100 million to relive my high school experience, and I would still laugh in his face without a millisecond of hesitation.
So when Jenny Han's sequel to To All the Boys I've Loved Before opens with the aftermath of Lara Jean Song's class ski trip, in which someone secretly filmed her steamy hot tub make-out session with her boyfriend Peter Kavinsky and then put it online for all to see, it struck a nerve, and I felt a deep empathy for her.
I can't imagine how difficult it must be to suffer through your teenage years in the digital age. My generation was the last to know what the world was like pre-social media, considering that Myspace and Facebook had only started gaining popularity when I was in high school. I was bullied mercilessly without the assistance of cyberspace, so I'm filled with horror when I think about just how much worse the torment can be nowadays.
It is extremely difficult for me to set aside my biases and review this book objectively. Every step of the way, I see myself in Lara Jean's shoes. I give Han credit for making Lara Jean seem so young; there were many times that I felt that her character was way too naive, but I realize that I can only sense this after years of disillusionment. I have to remind myself that I too was equally sheltered and gullible, until my horrible peers shredded my innocence and my ability to believe the good in others.
My less-than-enjoyable high school years also made me despise Peter with the fire of a thousand suns. His decision to emotionally support his ex-girlfriend instead of Lara Jean, thereby making her look like an utter fool to the entire school, eerily mirrored my own relationship drama and left a bitter taste in my mouth. Boys who care so much about making everyone happy and not picking sides are cowards who will not stand by you when you need it the most. In other words, Switzerlands don't win wars.
That being said, this book is wonderfully written and kept me turning the pages. I thought it cute to incorporate Lara Jean's volunteering at a nursing home, and I'm still a fan of the Song family dynamics, which have now extended into the dad's dating life. I also really loved the reunion between Lara Jean and John Ambrose, who is a shining light among the sea of loser guys who go to this school.
I'm sure that I'm not the only one who was woefully disappointed in Lara Jean's choice at the end of the book, and I hope that Han writes another sequel just so her protagonist can grow up and learn from her god-awful relationship mistakes. I'm happy to read more about Lara Jean's teenage years, even if it means coming to terms with my own in the process.