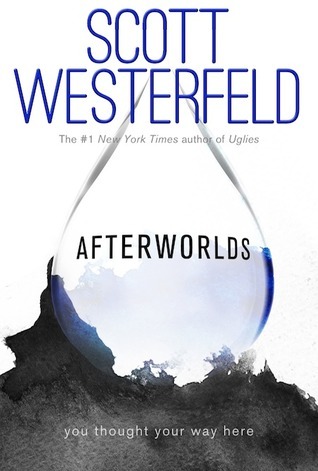 Rating: 4 out of 5
The year is almost over, and my reading challenge is finally completed! I set out to read 20 books in 2014, and the last on my list is Afterworlds by Scott Westerfeld. I got my copy at a book signing in October, and after meeting the author, I was more excited than ever to read this story.
I have to say that this is the most meta tale I've experienced. Afterworlds is a book within a book, and is named after a novel that recent high school grad Darcy Patel wrote during NaNoWriMo.
Darcy hits the jackpot by landing a publisher and a six-figure advance for a sequel. She defers college to move to New York City, too swept up by fellow YA debutantes and drink nights to stick to a budget.
While attending writer parties and rapidly draining her checking account, she falls in love with Imogen Gray, a pseudonymous author writing the sequel to her trilogy. I can't stress enough how refreshing it is to have a famous YA author like Westerfeld write a protagonist of color in a same-sex relationship. How unfortunate that these characters aren't more common in literature!
The chapters of this book alternate between Darcy's world and the world which she created. Afterworlds is a novel about Lizzie, a high schooler who survives a terrorist attack at an airport by pretending to be dead--so well, in fact, that she wills herself into the afterworld.
There she meets Yamaraj, an attractive and mysterious spirit guide who teaches her how to hone her newfound powers of seeing ghosts and walking through walls. She also befriends Mindy, a friend of Lizzie's mother who was tragically abused and murdered by a serial killer when she was 11 years old. Mindy's ghost lives in Lizzie's house, fearful that the 'bad man' will find and hurt her again.
Lizzie must oscillate between the worlds of the living and the dead, all while attempting to avenge Mindy's death and further a relationship with Yamaraj. What's intriguing is that this story changes as Darcy makes revisions to it, so it's fun to read this work in progress.
What's not so fun is that at 600 pages, Afterworlds tends to drag in places. Without one half, the other would suffer, but because of this symbiotic partnership, the whole novel gets a bit bloated.
I also found Darcy grating at times. It's natural to be self-absorbed and clueless in your teenage years, but I kept wishing for Darcy to stop sweating the small stuff and focus on her writing. It's pretty bad when her younger sister is the voice of reason.
And even though I felt that Westerfeld was sometimes trying too hard to keep up with the teenage slang (annoying meme is annoying!), overall I loved getting the inside scoop about professional writers, from dealing with editors and going on book tours, to conducting research and learning all the unspoken rules.
If you're an aspiring author and love young-adult fiction, I recommend reading Afterworlds to immerse yourself within the writing process. And if you haven't read Westerfeld's Uglies trilogy already, definitely do so because it's excellent dystopian fiction.